If you are a high volume user, you may be qualified to save up to 10% on your order by signing up for our auto-ship program. By signing up, you will get:
Refer-A-Friend and get 10% Off Your Next Order!
Give your friend a 10% off link and you will receive 10% off your next order.
You have been enjoying the benefits of the worlds greatest cleaner and have been telling everyone about it. Shouldn't you get rewarded for doing so?
We appreciate the efforts of our customers that help us spread the word about our amazing cleaning products! Th
er
efor
e, w
e
want to express our gratitude by giving
10%
off your order when you refer a friend, and they spend $20 or more.
How Do I get My Refer-A-Friend link and Referral Coupon Codes?
First, click the MY ACCOUNT link at the top right of your browser screen. *
Next, click the REFER A FRIEND link on the left sidebar.
There you will then see Your Referral URL and a separate referral Coupon Code to copy and share.
Or, you may also choose the use any of the social media sharing buttons or the share via email functionality.
*Only existing customers may generate Refer-A-Friend links and coupon codes. You must be logged in to view your referral information in MY ACCOUNT.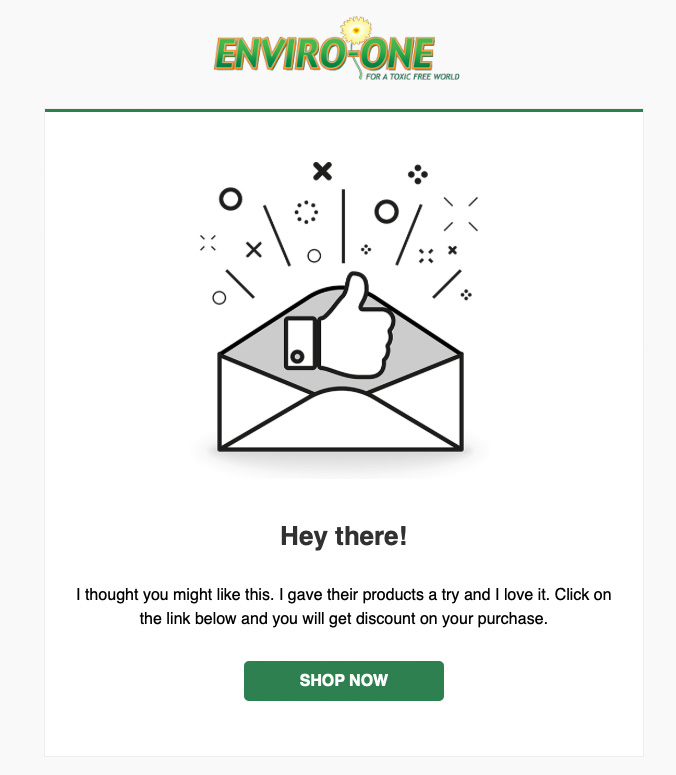 How Can I Track the Status and Earnings of the Referral Coupons I've Sent?
Each time a friend enters your referral coupon code or used the referral link you sent them, you will see it logged under Track your Invites.
You can also see Unused Refer-A-Friend coupons you sent as well as how many of your own referral coupons you've earned.
Helpful Information
Friends that use the Referral URL will not have to enter a coupon code at checkout. The discount will automatically be applied to the shopping cart total at checkout.
Friends that use the referral Coupon Code should be sent to https://enviro-one.com and instructed to use the refer-a-friend code at checkout.