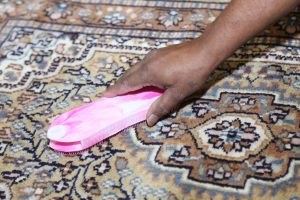 Enviro-One Multi-Use Green Cleaner Concentrate makes for an amazing non-toxic carpet cleaner solution. It can be used in carpet cleaning machines or as a spot treatment for tuff stains. Follow the directions below for best results.
Carpet Cleaner
CARPETS (31:1) – Spray Solution directly on stain, use terry cloth or brush to work into spot. Let sit for 60 seconds, then wipe, remove with plenty of water and pat dry with a towel. More than one application may be needed for harder stains. When using a machine to clean carpets, use 2-4 ounces of Enviro-One Multi-Use Green Cleaner Concentrate per gallon of water. Use the soap solution only ONCE on the carpet, then simply rinse, rinse, rinse with water. Spray in advance with a stronger solution. (Light carpets work best with a lighter dilution – 7:1 or 15:1; darker carpets work best with 3:1 or 7:1. Test a small area first.)
If you are using the Enviro-One Multi-Use Green Cleaner Super Concentrate, use a 60:1 dilution.
Please refer to our Dilution Calculator for dilution ratios.
« Back to User-Guide Index